Megan from build a sign contacted me about doing a review of a product on the site.
My Experience
I designed 2 signs and Megan made bumper stickers for me. The signs were really fun to create, you can customize the colors, the font, the design: basically everything to make it a personalized item. The process was really fun and easy, & the signs and bumper stickers are fun. The sign is my favorite. I had seen
Rae's sign and loved it and her's was my inspiration. This was a yard sign 18 x 24 made of corrugated plastic (one sided). It is quality material and is estimated to cost around $25. I am super psyched to look out for it at my races this spring! Megan designed the bumper stickers that say "I'd rather be running" and have my blog address at the bottom.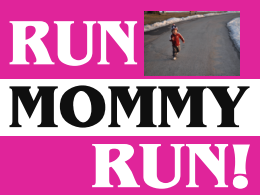 running signs...
The company
All of the products are 100% guaranteed. The process is made to be easy with fast shipping. It was a pleasure to work with them!
Giveaway
Megan has graciously provided me with 4 bumper stickers to giveaway. Want to win one?
Leave a comment below telling me what you would create at build-a-sign.com and how much you would be willing to pay for a large sign. Ends on Saturday - winner to be announced on Sunday.